Packing & Unpacking Services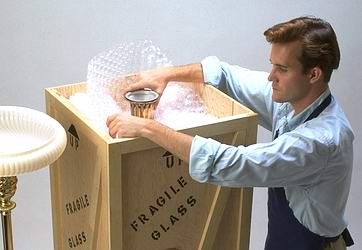 Don't have time to pack your house yourself? Don't despair the professionals at Mountain Moving & Storage can lend a hand. Mountain Moving & Storage employs a professionally trained packing crew capable of packing your entire household or a portion thereof. Our specially trained packers take extra care to protect your belongings. Our experience and specially constructed packing materials provide safety and security for all your belongings. We use specifically designed corrugated cartons for packing all household contents, especially dishes, china, books, artwork and clothing.
Mountain Moving & Storage's packing team arrive at your house the day before your move with all necessary materials to have you packed and ready. Standard size moving boxes and materials ensure safety, security of your items as well as increasing the efficiency of your move. Rest assured our team protects and packs your belongings for the successful relocation around the corner to around the world. Trust the packing professionals at Mountain Moving & Storage to do the job right.
Once you have moved into your new home why not let the professional packers at Mountain Moving & Storage help you unpack. This service allows you to settle into your new home quicker with less stress. Our team will unpack your contents and put them away in their final destination if you desire. At the end of the process, our team quickly removes all packing materials and boxes. Call us today to find out how easy packing and moving can really be.